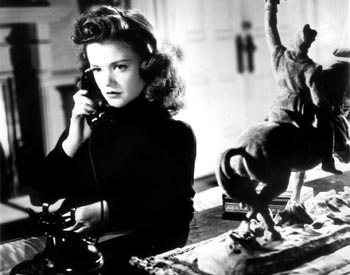 My first post in almost a year.
Movies used to be a greater source of fulfillment I guess. Now they seem demanding somehow. Watching movies alone can be a great

privilege

, but I'm not often in that mindset.
So tonight, i crossed over a from weekend of seclusion into the first hours of a challenging

Monday

with a movie from 1942 called Cat People. I had a lot to choose from and almost started watching "W", but decided against it. Might watch that with my parents. 
Two reasons mostly for watching Cat People. First, Movies from this era tend to be a simple reality. No superfluous dialogue and solid story. Second, I also have the remake (at least i think it is) from 1982, the year I was born, featuring music by Giorgio

Moroder

, and I intend to watch that another night.
I loved this film. Great cast, first and foremost, Simone Simon (pictured). The atmosphere is luring and suspenseful, cinematography is beautiful, especially the chiaroscuro.The most pleasing thing for me was how the simple exterior gave the fantasy element a deeper, scarier quality, Highly recommended.
Oh and interestingly, this is the second film in a short time where the main character is working in fashion, the other one was, "Single White Female", also very good.