Wednesday, July 29, 2009


March 2010 cannot come soon enough.

And it looks like the girl from In Treatment is Alice. Excellent casting.
Posted by

jannicke
at 2:09 PM
No comments:

Slitage is a shortfilm by Patrick Eklund, that can be found
temporarily here
.
If you understand swedish you will find it hilarious, I am sure!
The acting, the colours, the humour, the manuscript : SWEET
My friend, Daniel Rudstedt, plays the guy in a wheelchair.
Posted by

jannicke
at 2:04 PM
No comments:

Sunday, February 1, 2009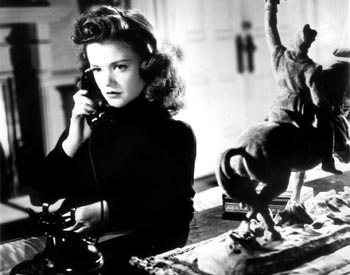 My first post in almost a year.
Movies used to be a greater source of fulfillment I guess. Now they seem demanding somehow. Watching movies alone can be a great

privilege

, but I'm not often in that mindset.
So tonight, i crossed over a from weekend of seclusion into the first hours of a challenging

Monday

with a movie from 1942 called Cat People. I had a lot to choose from and almost started watching "W", but decided against it. Might watch that with my parents. 
Two reasons mostly for watching Cat People. First, Movies from this era tend to be a simple reality. No superfluous dialogue and solid story. Second, I also have the remake (at least i think it is) from 1982, the year I was born, featuring music by Giorgio

Moroder

, and I intend to watch that another night.
I loved this film. Great cast, first and foremost, Simone Simon (pictured). The atmosphere is luring and suspenseful, cinematography is beautiful, especially the chiaroscuro.The most pleasing thing for me was how the simple exterior gave the fantasy element a deeper, scarier quality, Highly recommended.
Oh and interestingly, this is the second film in a short time where the main character is working in fashion, the other one was, "Single White Female", also very good.
Posted by

Bóas
at 5:13 PM
No comments:

Tuesday, January 27, 2009
I wrote the following 15.May 2008
this
is the movie I stumbled upon when I randomly bought a ticket in cinemateket the other day. cinemateket just recently changed their programme to one where one can hardly read anything anymore about the movies. (I used to love the layout of their programme. I even praised it out loud) now to save money or paper, or make us non-film-students feel silly and out of place/uninformed, they made it much tinyer/slimmer. I dont really know the intention. I only know that they stopped bringing us any valuable information on the movies. (of course you could check it out online, but I have been a computerless girl for weeks.)
I therefore showed up 5 minutes before the movie started, asked the girl behind the counter what this was. she answers:
"a russian silentmovie from 1932".
I say "ok. Is it any good?"
"yes. and it has live music."
"ok. fine, I'll have a ticket then."
there I was, alone, buying a ticket for a russian silentmovie from 1932 about communism that was accompanied by live piano playing written by Arvo Part. pretentious? well.. it seemed intriguing enough. and I had never watched a movie with live music before. I was excited as I entered the cinema.
Inside the cinema I laughed and laughed and laughed. this movie turned out to be a silent movie comedy about a farmer named khmyr and his wife. khmyr is the typical antihero who cannot seem to do anything right, and is constantly experiencing bad luck. a bit painful to watch at times, but with a humorous twist nonetheless funny. Slapstickhumour wrapped in socialistic everyday drama accompanied by the live piano playing turned out to be quite a hit with me, and I left the cinema feeling both enlightened, and enrichened. Such an experience it was!
I wanted to try to find the trailer or I thought I might even be able to find the whole movie online and put it in here, but no such thing. I could hardly actually find any information on it online, nearly no screenshots, and most definetely not any film to embed. what I did manage to dig up was this
torrent
.
and this picture:
one guy reviewing the movie on imdb states that this is a pro
kolkhoz
movie, I am not so sure that I agree to that. appearantly the director was affiliated with the communist party. but I interpreted most of the movie as quite anti. until the very end where I guess it turned around a bit.
Posted by

jannicke
at 5:21 AM
No comments: